Chickweed Pesto Recipe
---
---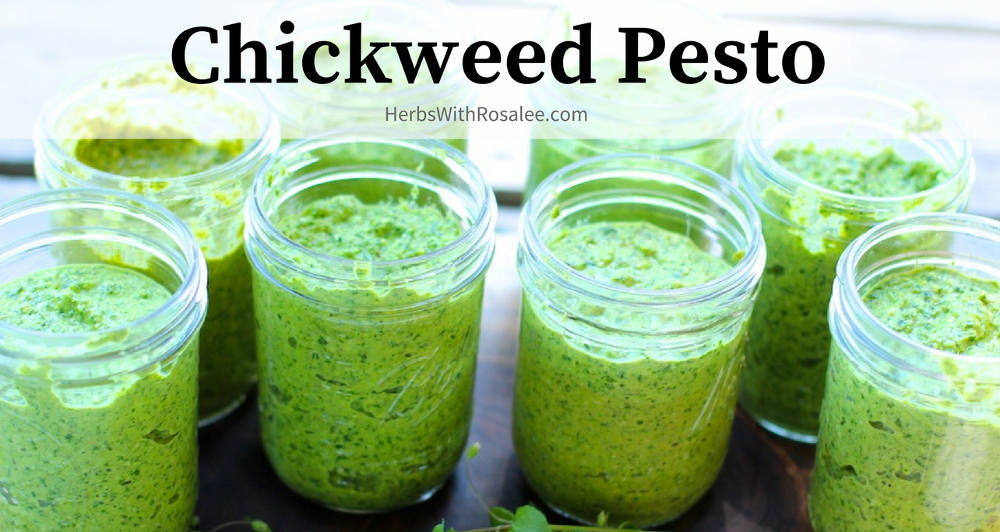 On Sunday afternoon I made 8 pints of chickweed pesto. I'm thrilled to have a whole week's worth of pesto made all at once. That way I don't have to make it day in and day out. 
Okay, I'm kidding. I don't eat 8 pints of chickweed pesto a week, but it isn't for lack of trying. Chickweed is so delicious as a pesto, plus it's a great way to preserve this nutritious weedy wonder since it tends to have a short growing season. 
Chickweed doesn't retain all of its herbal goodies when dried. Most of the chickweed you find in commerce looks like straw and if you try to dry it yourself you'll notice that it fades quite quickly. Using our senses we can easily see that dried chickweed doesn't taste or look like its juicy fresh counterpart. 
I like to eat chickweed because it tastes delicious! It's also high in nutrients and tends to grow freely and generously. Chickweed is a cooling and moistening plant. Herbalists use fresh chickweed for eye infections (like pink eye), for hot inflamed rashes, for swollen lymph, for hot fevers and dry coughs. This starry-flowered plant is a prime example of food AND medicine. 
Chickweed is often eaten as a salad green, infused into oil to make into salves, creams or lotions, extracted as a vinegar, extracted into alcohol for a tincture or juiced into a succus. 
You can read all about chickweed plus get some identification and harvesting tips here. 
Chickweed Pesto Recipe
Chickweed pesto is easy to make and tends to be a crowd pleaser. We like it as a vegetable dip or on top of eggs, meat or veggies. You could also add it to noodles like a traditional basil pesto. Pestos are quite forgiving so feel free to add or omit ingredients to your preference. Chickweed stems can be a bit stringy and they can easily clog up a blender so I prefer using a food processor to blend this all up. If you don't have a food processor then I would chop of the chickweed before putting it in the blender.
Chickweed Pesto Recipe Ingredients
4 handfuls of fresh chickweed
1/2 cup olive oil
1/3 cup pine nuts (or substitute your preferred seeds or nuts)
1/3 cup parmesan cheese
1/4 fresh chives
3-5 cloves of garlic
2-3 tablespoons of lemon juice
3/4 teaspoon turmeric powder
1/2 teaspoon salt
black pepper as desired
Chickweed Pesto Recipe Directions
Combine all the ingredients into a food processor.
Puree until smooth.
Give it a taste and adjust the ingredients to your preference.
Depending on the batch I sometimes prefer more lemon juice or salt.
Eat within a couple of days or freeze for long term storage.
Yield: approximately 2 cups
Print the Following Chickweed Pesto Recipe Card for Easy Reference!