2020 Giveaway

---
---
I often joked that while in college I majored in activism.

Copying and posting flyers, attending organizational meetings and protests often took higher priority than classes and homework. It was an exhilarating time. I was a part of a group of smart, dedicated folks and we were a part of successful campaigns, including one to support the U'wa people of Columbia. They were asking for solidarity, as the Columbian government wanted to drill for oil on their sacred land, which would irrevocably harm not only the land but also their entire way of life.

I cared so much about these causes. I still do. But I was headed to burnout.

As a young activist I was already acquainted with apathy. I attended many protests, marching down streets banging drums and singing songs. I passed out flyers, gave speeches and ultimately always felt like I was preaching to the choir. Most people passing by ignored us, while a few would take the initiative to yell insults. "Get a job!" "If you don't like it here then leave!"

I was in a jail cell when I realized that something needed to change.

I had been a part of a successful protest. We had staged a publicity event, the news crew had arrived, and while I was in the holding cell I could see that our demonstration had made it on the evening news!

It was good coverage too: in addition to video shots of us locked down in front of a financial building, they also shared video clips of the U'wa people.

I was excited to see this cause getting the media attention we had hoped for, and was shocked that the people around me weren't being roused to action. This heartrending story, which had motivated us to dramatic action, was just a news blip. Moments later it was over. No one else in the concrete cell even glanced at the TV.

Okay, okay, we were in jail. You could rightfully argue that people had their own problems to deal with in that moment. But I had to wonder, was it any different in other places across the city? Had my sacrifice actually convinced more people to pay attention, or to care?

In that moment, I realized that as much as I honored and respected the activism path (and still believe in its importance today), I had to find another way.


Finding Connection
Years later, through life's twists and turns I found myself at a wilderness living school, Earthwalk Northwest, in Washington state. I had done a lot of camping while growing up; I think in part because my dad loves being outside but also because vacations with hotel rooms were out of our financial reach. Even still, my relationship with nature, at that point, was one of separation. I felt awkward and uncertain the further I was from modern amenities. The wildlife around me felt alien and even dangerous.

The first class I attended was how to make herbal salves and lip balms. We started in the instructor's basement getting a step-by-step tutorial on making infused oils and salves. She brought out dried herbs and talked about their uses and gifts. The idea of using plants as medicine was entirely new to me. When she started talking about a local weed, plantain, I was incredulous. A tropical plant was growing nearby?! I asked and she chuckled good-naturedly before bringing me up the stairs to their driveway where she introduced me to plantain (Plantago major).

After that first encounter I saw plantain wherever I went. I was fascinated that I had never noticed it before while also being amazed that I could recognize it so well. Botany and plant ID had seemed so intimidating before. I was grateful I was befriending a plant with so many gifts.

After that I was immediately hooked on plants. I attended the wilderness and ethnobotany school for three years. Each trip we took to the woods and fields brought me intimately closer to plants. I went from walking in a strange world filled with anonymous green things, to being able to greet plants by their common and botanical names. It wasn't too long before I began to feel more comfortable in the forest than I did in the city.

It also wasn't too long before I realized this was a deeply fulfilling path for me to follow. I watched as myself, and my fellow students, fell in love with the earth as we formed relationships with plants and received the gifts of their food and medicine.

As I thought back to my environmental activist days I realized that it's hard to get people to care about what they don't know. By re-connecting with nature, we form deep bonds with the land around us. And that connection naturally leads us to be caretakers and tenders, to stand up against mass resource extraction that lines the pockets of a few while destroying the habitats of many.



Herbal Products vs. Herbal Life Path

Within the greater world of herbalism today, there are many different approaches to plant medicine. For the majority of people, herbal medicines are simply another commodity; products that line store shelves, neatly packaged behind cardboard and plastic, which can be easily purchased. In the past few decades herbs have soared in popularity and it's now an industry worth billions of dollars.

But for me, and many other grassroots and bioregional herbalists, plant medicines that are separated from nature connection are missing their deeper transformational potential.

Buying herbal capsules at a store, swallowing them with a swig of water morning and night, and going on with life as usual, is a limited and sterile experience. I'm not saying that healing can't happen through herbal pills. But a life is rarely changed as a result.

Instead, herbal medicine can offer us a lot more than the simple contents of a pill.


Medicines as Part of the Earth

As the snow melts in the spring, I eagerly await for the arrival of my many green friends. Living in the northern desert, with a relatively short growing season, I am continually amazed at how quickly green sprouts shoot up after the receding snow line. New green growth after months of snowy blankets never ceases to be miraculous. As the seasons shift, I visit plants, watching them sprout, bud, flower, and seed, to begin their cycles all over again.

When needed, and when plants are abundant, I gather my baskets and harvesting tools to practice tending and wildcrafting. The walk is more arduous and my hands are dirtier than simply buying products at the store, but I also feel more alive. Listening to the kingfisher's call, watching bees busily gathering nectar and pollen, finding coyote tracks along the trail, and smelling newly upturned earth or the aromatics of a freshly crushed leaf are all part of the medicine.

By regularly practicing reciprocity with the natural world around me, I'm affirming that I am a part of this earth, not apart from it. Feeling that connection is the greatest gift I've received in my herbal path.



Early next year, Emily Han and I are releasing a brand new offering that bridges the gap between making herbal medicines and nature connection.

In the meantime I am sharing some inspiring books to further your own musings and experiences.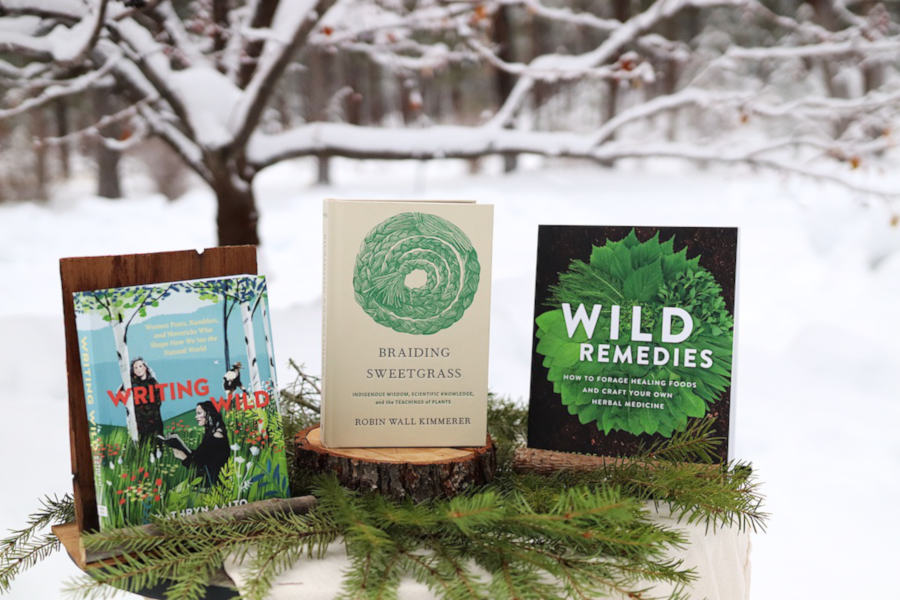 The Giveaway
For this year's holiday giveaway, I'm inspired to share some nature-filled books published in 2020. In addition to the books I'm also including a year-long membership to the United Plant Savers.


Braiding Sweetgrass by Robin Wall Kimmerer

I don't remember how I found Dr. Robin Wall Kimmerer's book, Braiding Sweetgrass, but I know it was love at first sentence. In the years since it's been published I have read it many times (and listened to the audio which I also highly recommend).

Kimmerer's perspective of bridging traditional plant knowledge and ecology with her background in biological sciences is both insightful and inspiring. My copy of the book is filled with highlights, tabs and dog-eared pages. It's a treasured copy, not only because of my own marks, but because I had the honor of meeting Robin and getting it signed.

If there was one book I wish everyone in the world could read, it would easily be Braiding Sweetgrass.

This spring, five years after being published, Braiding Sweetgrass made the New York Times bestseller list for the first time. That so many people are reaching for this book gives me hope!

This fall, Braiding Sweetgrass was published in a beautiful hardcover edition, which is the edition I'm including in this giveaway.


Wild Remedies by Rosalee de la Forêt and Emily Han

Braiding Sweetgrass has woven its wisdom into my life in many ways. It was also a source of inspiration for both Emily and I in writing our book, Wild Remedies.

I think of Wild Remedies as the practical action guide to strengthening connections to nature. It is, in part, a guide to foraging, but above all it's a book about rooting yourself in nature, so that you can make that transformational leap of seeing yourself as part of nature.

I'm including a signed copy of Wild Remedies for this giveaway.


Writing Wild: Women Poets, Ramblers, and Mavericks Who Shape How We See the Natural World
by Kathryn Aalto

I recently found this book in my local bookstore and was instantly intrigued. Published in 2020, this book showcases 25 women "whose influential writing helps deepen our connection to and understanding of the natural world." The women featured include many of my favorite writers like Robin Wall Kimmerer, Mary Oliver and Gene Stratton Porter, as well as many I am delightfully getting acquainted with.


United Plant Savers

I've been a member of United Plant Savers for many years and am continually proud to support this organization. From their site, "Formed in the spirit of hope, United Plant Savers is a group of plant enthusiasts committed to raising public awareness of the plight of our wild medicinal plants and to protecting these plants through organic cultivation, sustainable agricultural practices, and the replanting of native medicinal species back into their natural habitats. Our goal is to ensure that these valuable medicinal plants will be preserved for our grandchildren and our grandchildren's grandchildren."

Learn more about United Plant Savers here.
How to Enter the Giveaway
I am giving away these three books and the United Plant Savers membership to one lucky winner.

To enter, please write a sentence or two in the comments below about the importance of nature connection for you, or how you would like to cultivate nature connection more deeply in your life.

On Friday morning, December 18th 2020, at 11am Pacific time, I will randomly choose one winner and notify them by responding to their comment. If they don't respond within 24 hours I will choose someone else. So please check back!

Due to high shipping costs, this giveaway is only open to those living in the United States.

There is no purchase necessary to enter. This giveaway is not associated with any author or business other than myself. Void where prohibited.