Oct 11, 2017
The Bitter Truth About Herbs: A Free Webinar with Rosalee
On October 12 I'll be giving a free presentation about bitter herbs and how they do all the amazing things they do.
Bitter is a taste that people most love to hate. We despise the bitter taste so much that we've essentially bred it out from most of our foods. For example, our once bitter salad greens were transformed to the dull iceberg lettuce.
But bitters are making a comeback!
In fact, for herbalists bitter herbs are one of the most important category of herbs.
We use them to…
**enhance digestion
**support detoxification
**fight infections
**balance blood sugar
**relax an overexcited nervous system
**address symptoms of colds and the flu (especially with signs of heat)
Herbal energetics is a profound and effective way to explore the world of herbs, but it's not always the obvious path. Many people get stuck using herbs unsuccessfully because they are Google-guessing or blindly throwing every herb at a problem!
It's my passion to help people to successfully use herbs so they can be empowered in their own health. After over a decade of study I know how powerful herbal energetics can be. Thank you for being interested in going back to our roots and learning about herbal energetics.
Register for the FREE webinar by clicking on the link below and get 6 recipe cards as a bonus.
See you there!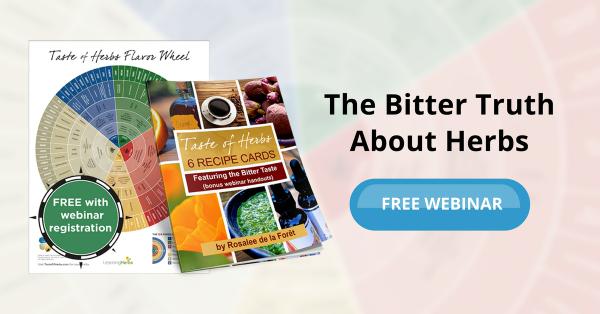 Continue reading "The Bitter Truth About Herbs: A Free Webinar with Rosalee"